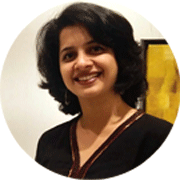 Gayatri Deshpande
Artist
Born on 7th June 1975 in Nagpur….Gayatri was brought up in Pune. She is a Pune based artist now. Painting was always her passion. After successful schooling with really good grades, she followed her passion by taking admission in the esteemed Art School in Pune- The Abhinav Kala Mahavidyalaya .After her training in the faculty of Fine Arts(drawing and painting) she passed out with flying colours in 1995 to further pursue her dreams. Gayatri's works gathered several prizes and awards at exhibitions conducted by different Art Societies. To start with she exhibited her works through several group shows…. At, NCPA Mumbai in 1992, 'Different Strokes' in Pune in 1996, at Café Sunrise in Pune in 1998,….Gayatri then got an opportunity to work as an Art Teacher at a very renowned school in Pune. She is a painter who feels great satisfaction painting as well as teaching art to the young artists. You can see her carrying out different activities and the great pleasure she has doing that. She is a proud mother of a fine 17 year old girl. Gayatri ,now, is back after years of serving for her job and family, to be true to her calling, to follow her dream…..Painting !Her works have been exhibited at The Jehangir Art Gallery in April 2011 ; the Tilting Art Gallery ,Pune ,2012; the Art2day Gallery,Pune, 2013 ; the Letartwork art gallery and the Monalisa Kalagram,Pune, 2014; a solo show at the PNG art gallery Pune,2015 and a group show at the Mahua art gallery,Bangalore,2017.Her works have been appreciated and sold in India and abroad too. Her paintings have been selected and exhibited at various internet portals as well. She has been active in this field for 20 years, may it be as an artist, an art teacher or a trainee at some art workshop. Art has always been an inseparable part of Gayatri.
Gayatri's work is primarily done on canvas in acrylic or oil. Painterly depth and rich colours are constant vital elements to her. She hopes to lead the viewer into a resonant space. She seeks freedom with imagery. Hence she likes to use the abstract vocabulary. At the same time she likes to use some stated imagery as well , so that her work has both elements to varying degree. As she grew as an artist, she found that she could express herself better with colours and shapes- the things she had no words for."If I knew how to say it in words…why would I paint?"Colours and shapes became reflections of her thoughts…her feelings. It's pure emotions that she wanted to offer. She was inspired by the fabric art to start with-"the Design element fascinated me". Soon she realized that Design in absence of Content will be merely Decoration. She then wanted to put that valuable thing in her Art-The thing that cannot be explained in words. She never paints with a strategy…an idea is born and then it becomes something else. The aim of her art is to represent the inward significance of things.
Gaya3 Art Workshops Retreat is her art initiative which offers a wide variety of workshops taught by accomplished artists who have a passion for teaching all experience levels.These workshops will give you the knowledge, tools and inspiration.
Gaya3 will help you connect with your inner self and rediscover your passion for life.
Gayatri Deshpande,Pune – 9850983449